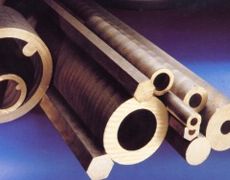 The bronze bar in continuous casting finds many applications in the field of fittings, valves and for all the components in contact with drinking water.
Due to its high electrical conductivity, proper of all the copper alloys, the bronze bar is used in the electrical slip rings and in the parts of electric motor gears.
Service Metal Company, with its double line in continuous casting, offers to its customers a wide range of dimensions with rounds, hexagonal, octagonal, square, flat or special profiles both solid and hollows ( sizes on demand for specific quantities agreed) thanks to its Tools Department aimed to the inside construction of the tools and spare parts.
The flexibility of production and a large stock in alloy CuSn5Zn5Pb5 EN 1982, CuSn12 EN 1982 and CC333G EN 1982 can quickly satisfy any enquiry.
The service of rolling and straightening allows the use of bronze bar on each automatic multi spindle machines, this service is offered for bars in alloy CuSn12 till diameter 60 mm available at stock and for other alloys till diameter 70 mm for quantities agreed on demand.
Moreover, it is available a cutting service to meet the needs of customers of all sizes ( in multiple of 500 mm)as well as chamfering with a bevel of 45° that allows an easier bronze bars loading on automatic machine for mechanical and cut jobs.
Mechanical properties, dimensions and tolerances are available on our technical catalogue that it can be downloaded in the home page of this website.
Commercial alloys Gamma Round tolerance table Flat bars tolerance table