The bronze ingots are manufactured melting secondary metals (scrap or waste) in a tundish or in continuous casting with octagonal section and dimensions 80X80X300mm.
They are used for the production of gas and water fittings,large gears, bearings and mechanical products in the industry, propellers and propeller support, valves for naval components, engine parts, special pumps and flanges in automotive and transport.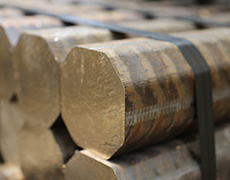 The bronzes are used for numerous applications: coins and medals, valves for high pressure hydraulic equipments. The bells are traditionally casted in bronze, and it is also widely used by sculptors for their works, due to the property of many bronze alloys to slightly expand before solidifying and filling every little void of the mould.
The bronze ingots (Kg.12 for standard ingots and Kg. 15 for continuous casting ingots) in common alloys with tin or low lead content for drinking water applications, are produced according to SMC and to the international standards, including EN – ASTM – JIS – SAE, or following the personal request of customers.
Common bronze Bronze with low PB content Tin bronze Special bronze